Where To Buy 2020 Arizona Diamondbacks Tickets?
Arizona Diamondbacks single-game tickets went on sale on the primary market on Wednesday, February 19. Information about season tickets and mini packs are currently available directly through the team.
On the secondary market, TicketIQ will offer fans a Low Price Guarantee on all Major League Baseball tickets. That means that if you find a secondary market ticket for less on a site like StubHub or Vivid, we'll give you 200% of the difference in ticket credit. TicketIQ customers save up to 25%.
How Much Are 2020 Arizona Diamondbacks Tickets?
On TicketIQ.com, the average asking price for an Arizona Diamondbacks ticket is $69, the third priciest since 2011, but down 17% against last season. In 2019, tickets peaked at $81, and the second priciest season was 2018, when tickets cost an average of $74. The cheapest season was $46 in 2014. Diamondbacks tickets are ranked No. 15 in terms of price across Major League Baseball. The priciest seat in the league is $167 for a Boston Red Sox home game.
On the secondary market, tickets to most home Diamondbacks games are available for $30 or less.
Among the cheapest games is the July Sunday, July 19 game against Miami, for which the cheapest seat is $19 in Outfield Reserve 302 and the priciest has an average asking price of $680 in Infield Box 126, Row 24 behind home plate on the third-base side.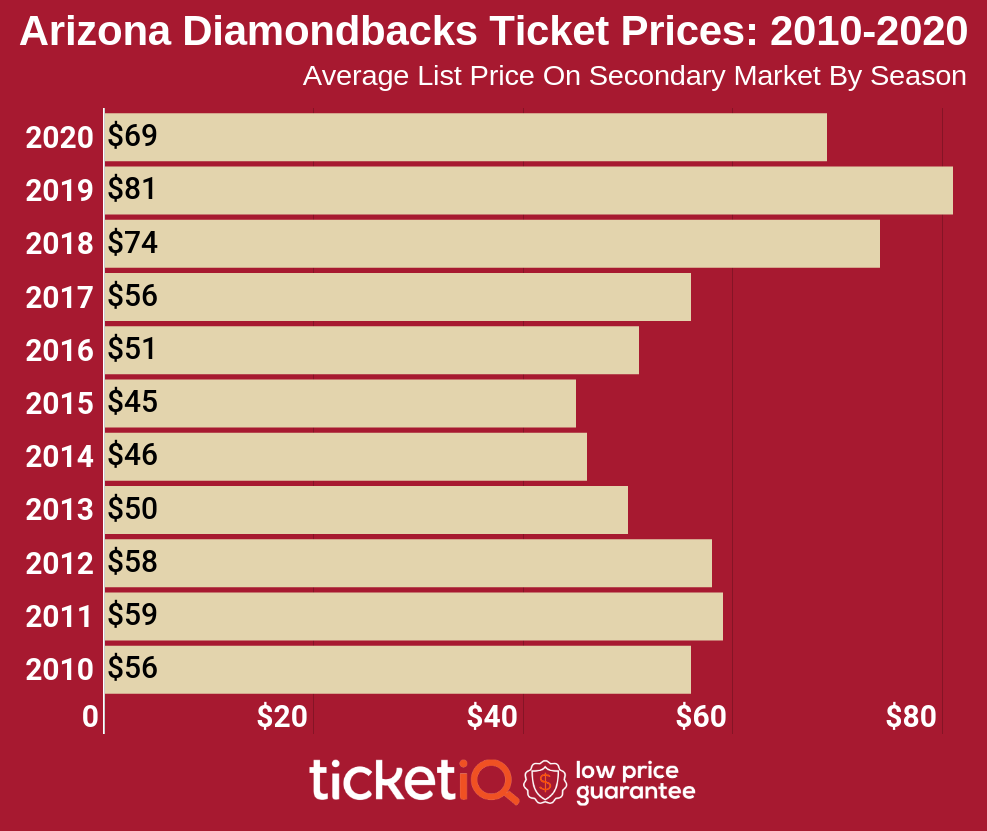 What Are Diamondback Season Tickets & Mini Plan Options
On the primary market, fans can request information about season tickets through the team. Season tickets are at a discounted rate as compared to single-game tickets. Season-ticket holders also get discounts on concessions and merchandise, access to pre-sales, early entry, and invitations to Diamondbacks Experiences.
Information about Mini Plans is also available via the Diamondbacks. According to the team, fans can build their own ticket pack, and prices vary depending on the number of games and location of seats.
Diamondbacks Mobile Ticketing Policy
The Diamondbacks and Chase Field encourage digital ticketing via the MLB Ballpark App. Fans can view, transfer, sell or buy tickets using the app.
---
TicketIQ is committed to Transparent Ticketing and offers Low Price Guarantees on sold out tickets + unsold face value ticket through Ticketmaster, Eventbrite and other partners.
read more...