Where To Buy Montreal Canadiens Tickets
Single-game tickets on the primary market for the 2019-20 Montreal Canadiens season are currently available. Ever since leaving the famous Montreal Forum, the Habs have played in the Bell Centre. Single-game tickets are available through Ticketmaster. Below is an example of a Canadiens seating chart with a good amount of unsold face value options.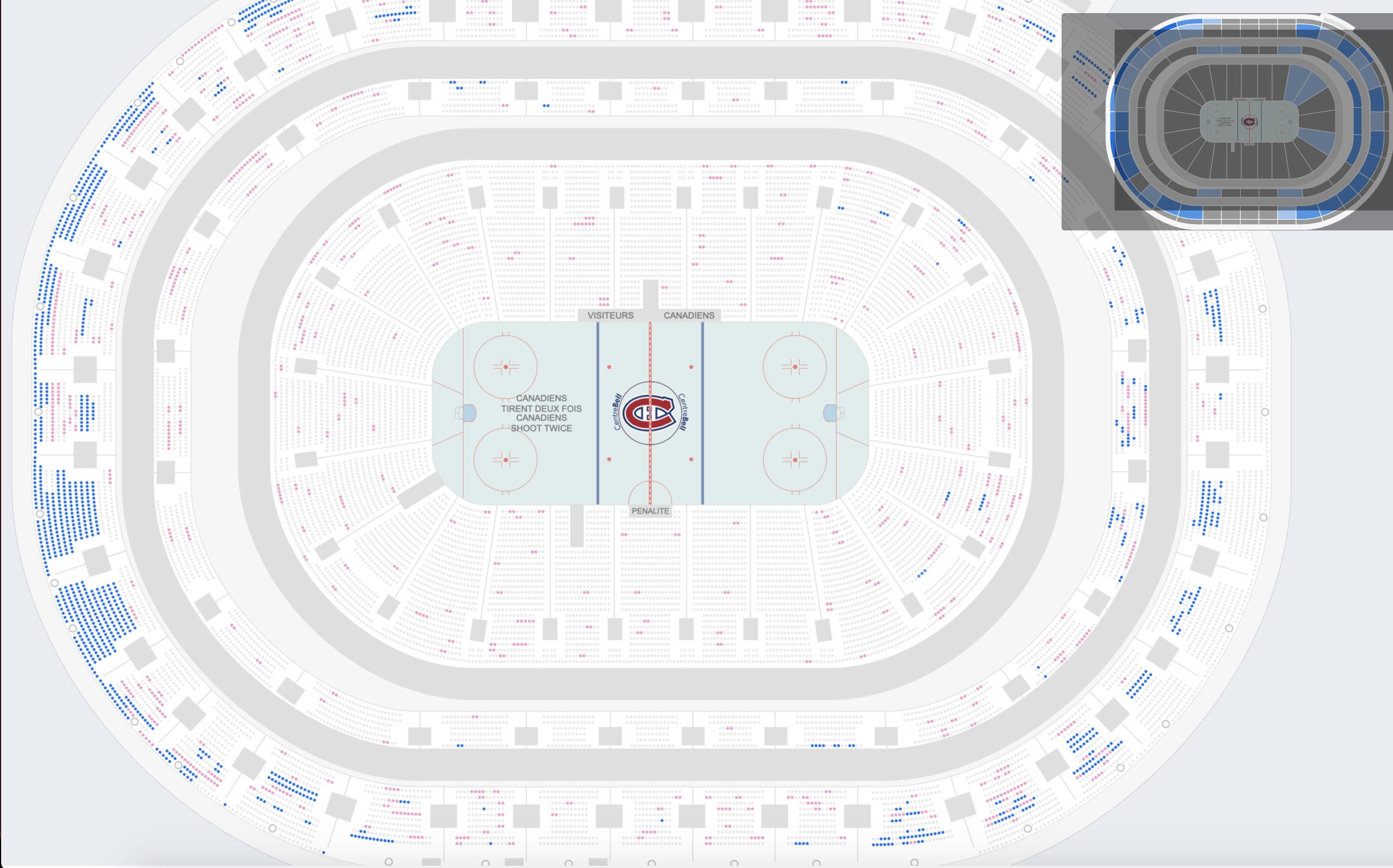 On the secondary market, TicketIQ has Low Price Guarantees on sold out NHL tickets. That means that if you find a secondary market ticket for less on a site like StubHub or SeatGeek, we'll give you 200% of the difference in ticket credit. TicketIQ customers save an average of 5% to 20%, compared to StubHub and Vivid Seats. Below are the cheapest tickets on the secondary ticket market for a higher demand Habs games at the Bell Centre: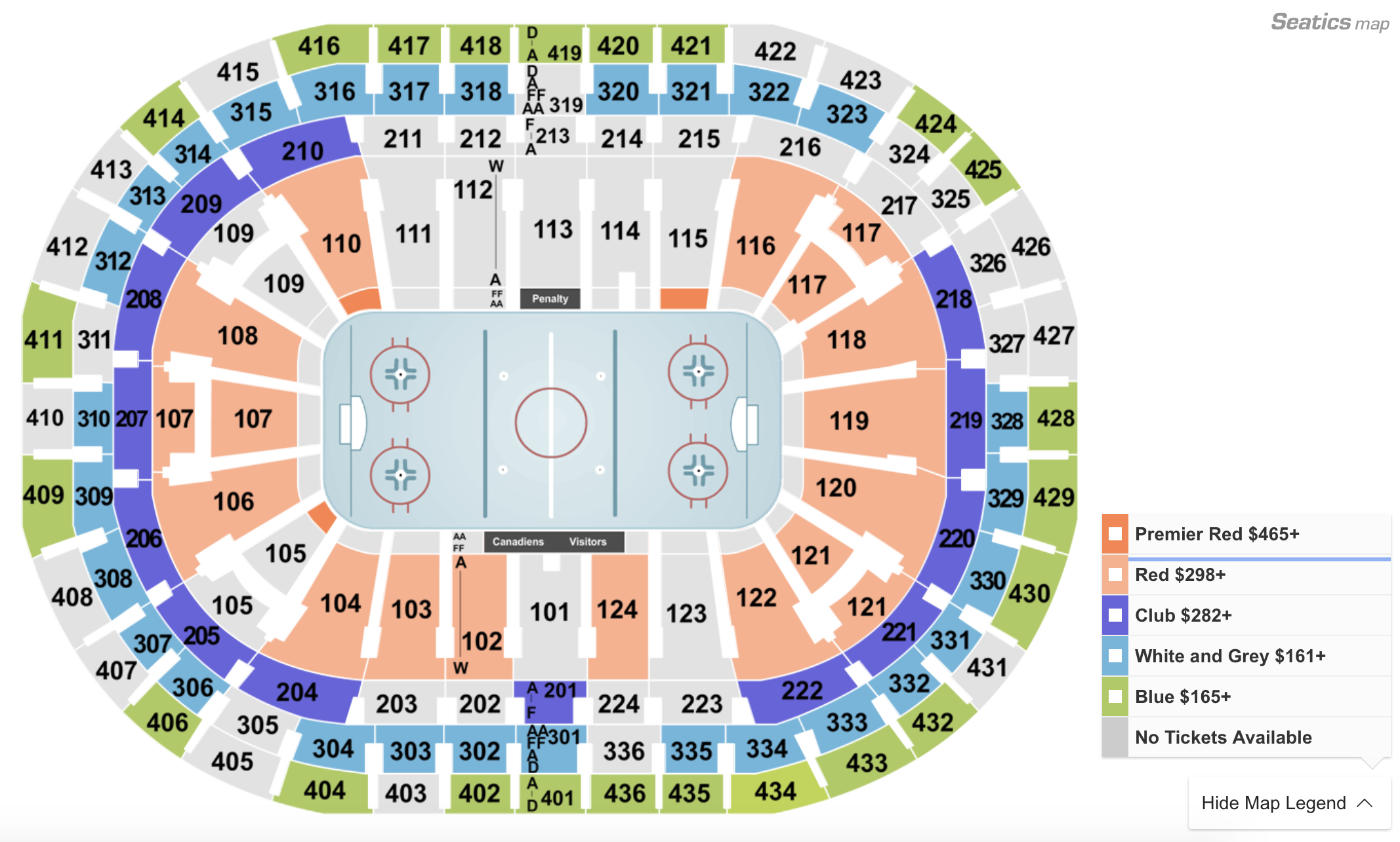 🎟️ Visit Ticketmaster for Unsold Face Value Canadiens Tickets
📲 Download the TicketIQ app for $20 off your first ticket purchase
How Much Are 2019-20 Montreal Canadiens Tickets
On the primary market, the Canadiens charge regular prices across the entire season. Retail seats start at $41 USD in the highest reaches of the upper deck, regardless of the event, and peak at $171 USD in center ice club seats. It's also worth noting that seating is extremely limited; if you want to buy tickets from the Canadiens, you'll be choosing seats in the upper deck behind the goals or the club level. Beyond a few scattered seats, the lower bowl is universally sold out.
On the secondary market, there's more seating variety and more reasonable prices. The Canadiens enter the 2019-20 season with the most 17th expensive resale tickets; seats are currently averaging $112, comfortably sitting in the middle of the NHL. That's a 20% decrease from last year's resale prices and the lowest Habs seats have been in years.
On the ice, the Canadiens are a talented team, making their dropping ticket prices even more attractive. They're currently projected to finish the year with 96 points, meaning you'll pay a little more than a dollar per point to catch a game. If Max Domi, Brendan Gallagher can keep the offense rolling and Carey Price stays healthy, the Habs could have a solid season.
What are the Montreal Canadiens Season Ticket and Mini Plan Options
If you're going to be attending several Canadiens games, the team offers two main ticket plans: a full season ticket and a half-season ticket. While it's too late for this current season, it's never too early to prepare for next year.
As you might assume for a hockey team locate in Montreal, season tickets for the Habs are in high demand. There's a sizable waiting list so, if you're interested, it's best to sign up ASAP.
Where are Club Seats the Bell Centre
If you're looking for a premium experience while watching the Canadiens, the Bell Centre offers two suites and one club seating option.
Level Three and Level Five suites have similar amenities, but different locations; the former is located between the lower bowl and club level, while the latter sits between the club level and upper deck. Suites include a private entrance to the arena, parking passes, and an open bar. A single suite, which can accommodate 12 guests, starts at $4,500, with a 40 person super suite starting at $11,480.
The Club Desjardins also takes up the entire 200 level of the arena. In addition to the great view of the ice, the club also offers complimentary food and non-alcoholic beverages in a premium concourse.
Canadiens Mobile Ticketing Info
Like many other teams, the Canadiens use mobile ticketing. If you're attending a game, you can log into your Canadiens and add your tickets to your Apple Wallet or Google Pay. You can also pull up mobile tickets on your phone's Internet browser or use physical tickets; print at home tickets, however, will not be accepted.
The Top 10 Most Expensive Canadiens Games on the Secondary Market
On average, the 10 most expensive Canadiens games cost over $125 on the secondary market. If you look at get-in prices, however, there are some bargains to be had, with tickets available for roughly half of the average price.
Secondary Market Average Price: $235
Cheapest Ticket Available: $139
Secondary Market Average Price: $226
Cheapest Ticket Available: $133
Secondary Market Average Price: $180
Cheapest Ticket Available: $90
Secondary Market Average Price: $153
Cheapest Ticket Available: $75
Secondary Market Average Price: $142
Cheapest Ticket Available: $75
Secondary Market Average Price: $140
Cheapest Ticket Available: $54
Secondary Market Average Price: $138
Cheapest Ticket Available: $61
Secondary Market Average Price: $133
Cheapest Ticket Available: $71
Secondary Market Average Price: $131
Cheapest Ticket Available: $65
Secondary Market Average Price: $130
Cheapest Ticket Available: $56
🎟️ Visit Ticketmaster for Unsold Face Value Canadiens Tickets
---
TicketIQ is committed to the cheapest tickets possible, and we make much less on sold out tickets compared to other major marketplaces like StubHub and Vivid. That means ticket buyers save from up to 25% on TicketIQ on sports, music and theater. We're able to do this because we also work with teams, venues, and other ticket owners, to help them sell tickets at face price, directly to consumers like you, through Ticketmaster and AXS. For an overview of the 2019-20 NHL Ticket Buying landscape, and details on the cheapest way to get tickets for every team, visit the TicketIQ Blog.
read more...