Where to Find Come From Away Tickets
Primary market tickets for Come From Away are available through TeleCharge, and start as low as $79 in the Orchestra for performances through September 1.
Come From Away is a musical set the week after the September 11 attacks in a small Canadian town.
According to the show's website, the following deals are available through September 1: $99 for Orchestra and Front Mezzanine seats and $79 for Rear Orchestra seats. These tickets are final sale. On the primary market, tickets in these sections usually run from $117-$157 for the Orchestra, $155 for the Front Mezzanine and $99-$117 for the Rear Orchestra. There is good availability for most shows.
TicketIQ offers a Low Price Guarantee on Come From Away tickets for all sold out shows, including any that may be sold out on the primary market. On TicketIQ, seats start as low as $79 through August and the cheapest availability is Saturdays.
TicketIQ also offers its Low Price Guarantee on all theater tickets, which means if you find a secondary market ticket for less on a site like StubHub or Vivid Seats, we'll give you 200% of the difference in ticket credit. TicketIQ customers can save an average of 55-20% compared to StubHub or Vivid Seats.
Come From Away Schedule & Run Dates
The show was workshopped in Canada in 2012 before making runs at the La Jolla Playhouse, Seattle Repertory Theater, Ford's Theater and the Royal Alexandria Theatre in Toronto. It premiered at Broadway's Gerald Schoenfield Theater on March 12, 2017 and last October became the longest-running Canadian musical in Broadway history.
Come From Away plays Tuesday-Sunday, with two shows on Wednesdays and Saturdays. Performances are at 7 p.m. on Tuesdays, Wednesdays and Thursdays, 8 p.m. on Fridays and Saturdays, 2 p.m. on Saturdays, and 3 p.m. on Sundays.
Come From Away Show Details & Reviews
Come From Away was nominated for seven Tony Awards and won one for Best Direction of a Musical. The show's book, music and lyrics were a joint venture between Irene Sankoff and David Hein, and is an original work. The show is based on the true story of what happened when 38 planes were forced to land in the small town of Gander, Newfoundland after the 9/11 attacks. Many of the characters in the show are based on Gander residents and some of the 7,000 people stranded.
The show is a celebration of human kindness during dark times.
The Daily Beast review called the show "a celebration of the best of humankind and an uplifting piece of art for our times."
Variety referred to Come From Away as a "feel-good musical," and reviewer Marilyn Stasio wrote "the intentions of the show are so heartfelt — and so warmly received by the audience at one late preview — that you can sense the connections with the show being felt in the house, row by row."
Gerald Shoenfeld Theatre Seating Chart + Details
Built in 1917, the Gerald Shoenfeld Theatre is located at 236 West 45th Street in New York City. The theater seats 1,080, and is part of the Shubert family of theaters. The theater was Herbert Krapp's first independent commission, and opened at the Plymouth Theater before being renamed after the Shubert Organization's late chairman in 2005.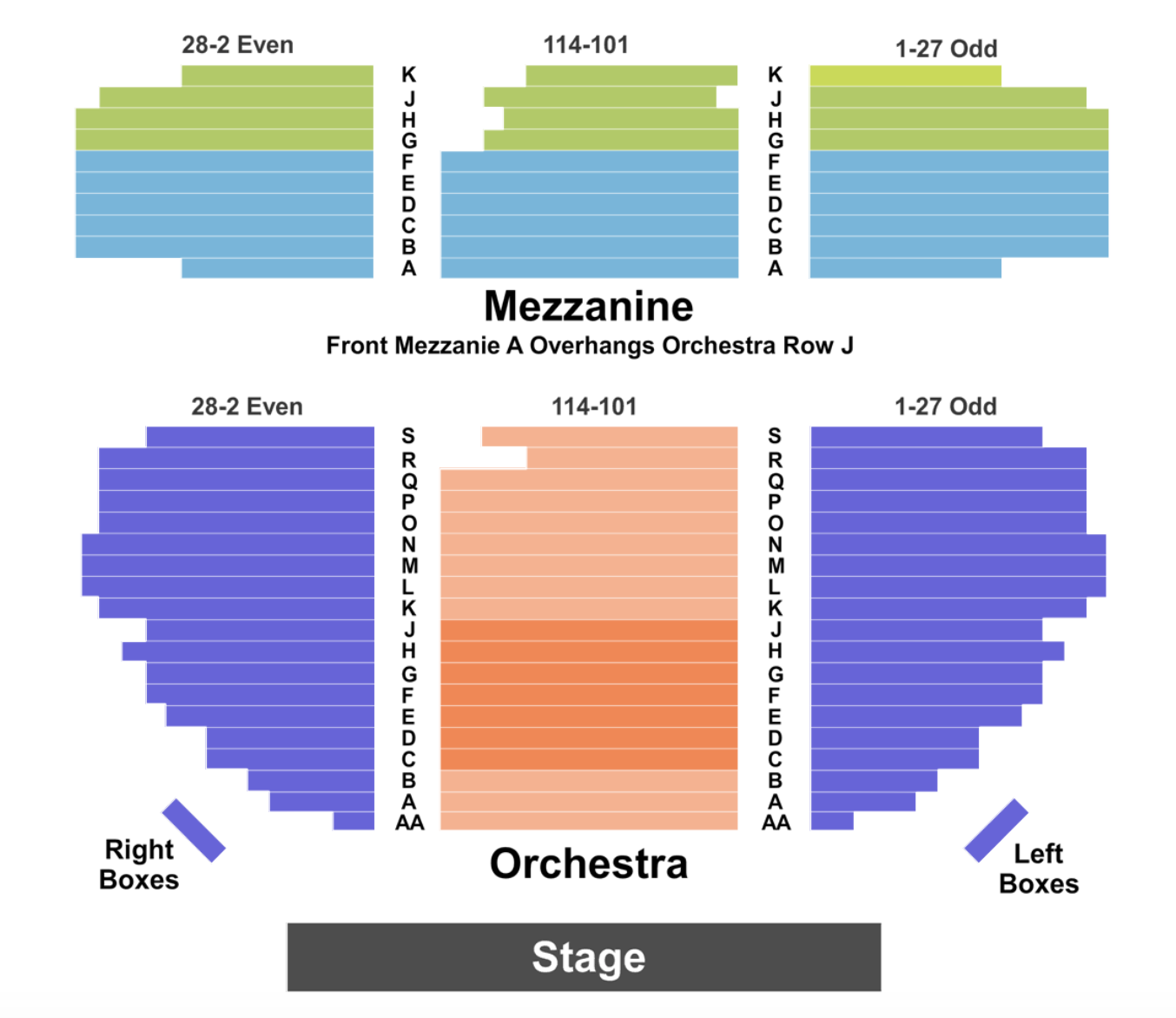 Wheelchair-Accessible Options
The theater is not completely wheelchair accessible. While there are no steps from the sidewalk into the theater, only the Orchestra sections are completely wheelchair accessible and have companion seats available. There is no elevator in the theater, and the Mezzanine section is 31 steps up from the Orchestra. There are two steps between rows in the Mezzanine and handrails are available.
The theater provides infrared assisted listening devices for the those with hearing issues as well as hand-held description devices and hand-held captioning devices. Please contact the theater in advance of your visit to reserve devices.
Standing Room Option
Standing-room tickets cost $32 and are available on a first-come, first-served basis on days the show is sold out. Tickets are available at the theater box office, which opens at 10 a.m. Monday-Saturday and noon on Sunday. The standing-room section is at the back of the Orchestra section and patrons are limited to two tickets.
Other Venue and Show Details
Come From Away runs 100 minutes with no intermission. It is recommended for ages 10 and above. Children under the age of four are not permitted in the theater. It is recommended that patrons arrive an hour before curtain, and latecomers will be seated at management's discretion.
The theater has restrooms and a pay phone. A unisex wheelchair accessible rest room is located on the main level.
Come From Away Rush & Lottery Options
Rush
Daily General Rush tickets are available at the box office, beginning at 10 a.m. Monday-Saturday and noon on Sunday on a first-come, first-served basis. Seats cost $38 and may be partial view. Cash or credit cards are accepted.
Lottery
Digital lottery tickets cost $49 and the lottery opens at 12 a.m. on the day of the performance and closes at 9 a.m. for matinee performances and 2 p.m. for evening performances. The digital lottery is for shows Tuesday-Thursday only. Winners will be notified by e-mail shortly after each drawing and have two hours to claim tickets online or by phone. Credit cards are the only form of payment accepted. Tickets can be picked up at the theater box office 30 minutes before curtain, and seats may be in the front row or be partial view.
Come From Away Discounted Tickets
TKTS
For theatergoers with flexibility, TKTS Discount Booths are a great way to see theater in New York City at affordable prices. Known for their iconic booth located around Manhattan, they offer discounts of 20% to 50% off face value tickets, and have limited availability of unsold tickets for purchase on the day of the event. TKTS Discount Booths in New York City, including the flagship location in the heart of Times Square, with booths at South Street Seaport and Lincoln Center. One extra benefit to using TKTS is that your ticket purchase does toward supporting the Theatre Development organization, which is dedicated to sustaining and sharing the arts and building audiences of the future.
read more...